How To Withdraw Money From Bovada
If you've ever asked how to withdraw money at Bovada sportsbook and casino - you're not alone! This popular and long-running international gambling site has been serving players for decades, so it's no wonder prospective new players want to find out how it all works first. That's where we come in!
To start - Bovada withdrawal methods include cryptocurrency options, bank transfers and even a cheque in the mail. Old school!
Anyway - here's our step-by-step Bovada withdrawals guide to the whole process. So, you'll know what to do before you even create an account or log in. Easy!
Deposit
Sounds simple - but obviously you can't make a withdrawal until you've deposited. That would be ridiculous, eh?
You can deposit at Bovada via your debit cards (VISA, MasterCard and AmEx) or various cryptocurrencies. These are:
Bitcoin
Ethereum
USDT or Tether
Litecoin
Bitcoin Cash
If you deposit via card, you won't be able to withdraw with them, however. You'll have to use a bank transfer, or switch to a cryptocurrency. Crypto deposits and withdrawals at Bovada are super easy, secure and convenient - so that's the method we recommend.
Minimum deposits are $20 on cards and $10 on all cryptos but ETH, which is $50.
Make Your Bets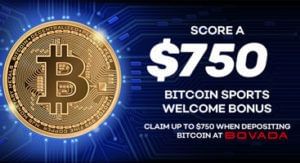 All Bovada deposits must be wagered at least 1x before withdrawal. This is to stop the site being used for money laundering. Makes sense. Nearly all online sportsbooks and casinos around the world have a similar rule.
So, make bets with your deposits. You can try the hundred plus sports markets with dozens more markets and bet types in each. Or, hit the casino for some slots action. Either way - playthrough your deposit once and hopefully you'll win some money to withdraw. Let's go!
Withdrawal Time (Step by Step)
Log in and click the account menu icon at the top right of your Bovada home screen
Then click the big Withdraw button. It's not hard to see!
Choose the withdrawal method you require - either cryptos, bank transfer or a postal cheque!
Put in the amount you wish to withdraw, click confirm. Up to $9500 can be done at one time. Bigger amounts than this can go through, but are automatically scheduled in three day chunks.
On the confirmation screen, note down your reference number or copy and paste to a notes file with one click
You'll have to wait 24 hours for crypto withdrawals to process, or 48 hours if using a bank transfer. There are no fees for cryptos. Your first bank transfer or cheque withdrawal each month is free, but any after that in the same month have a $50 fee.
See the Bovada payment funds appear in your crypto wallet or bank account. Easy!